Raleigh bikes in takeover talks with Dutch rival Accell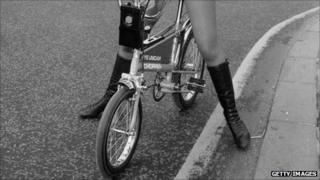 Bike firm Raleigh, which has been making cycles for 125 years, is in talks to be taken over, it has emerged.
The firm, which is famous for brands like the Chopper, is in discussions with Dutch rival Accell, the maker of Batavus and Sparta bikes.
Raleigh, whose brands also include BMX and Diamondback, has its UK head office in Nottingham and recorded sales worth £195m last year.
It has been reported that Raleigh has been up for sale for some time.
The company employs 430 people worldwide, including 100 design staff in Eastwood, Nottingham, with many of the bikes being made in the Far East.
At one time, the firm was the biggest bicycle maker in the world. In its heyday, after World War II, Raleigh employed some 8,000 people.
Raleigh ceased production in Nottingham, the city in which it was founded by Sir Frank Bowden on Raleigh Street in 1880, in 2002.
The company's milestones included launching the "80s cool kid" bike, the Vektar in 1985, which had a trip meter and FM radio, and victory in the Tour De France in 1980, won by Joop Zoetemelk of Holland, riding for TI Raleigh Creda.