'Geographically fortunate' water company avoids hosepipe ban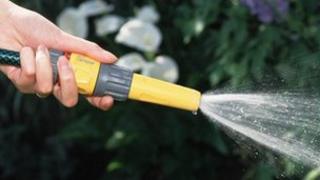 They are in an area surrounded by a hosepipe ban affecting millions of people.
But for the 130,000 customers served by Cambridge Water, no such restrictions apply.
The company covers a 453 sq mile (729 sq km) area around Cambridge, stretching from Ramsey in the north, to Gamlingay in the west, Balsham in the east and Melbourn in the south.
In some places, it means people one side of a street can use as much water as they wish.
But their neighbours face the prospect of heavy fines if they do the same.
Cambridge Water is one of the smallest suppliers in the UK, covering a landlocked area.
But while other companies have introduced a hosepipe ban, a spokeswoman for the firm said similar restrictions were not necessary in its area.
Much of its supplies are drawn from "historically-reliable bore holes" rather than "surface-water reserves", she said.
She added that meant the company is in a "geographically-fortunate position when it comes to withstanding the effects of the current drought".
"We are not being complacent," the spokeswoman added.
"Water levels and demand for water are being monitored daily and appropriate action, outlined in our drought plan, will be taken if it is necessary to protect the environment and essential supplies.
"At this stage, we believe there is a medium risk we will have to implement a temporary usage ban later in the year."
'Nearly run dry'
Catering assistant Paula Froggatt, 48, of Station Road, Melbourn, is one of the company's customers and said she was a "bit surprised" a ban had not been imposed by Cambridge Water.
"There's a little stream in our village and that has nearly run dry. We definitely haven't had enough rain," she said.
The Reverend Stuart Clarke, of Melbourn Baptist Church, said although the restrictions did not apply to him, he had no plans to use water to excess.
"I'm not going to be flaunting the fact we haven't got a hosepipe ban," he said.
"It's not like I'll be spraying water around everywhere. I already try to use water sensibly."
And despite not imposing a hosepipe ban so far, Cambridge Water has urged its customers to reduce their water use all the same.
"The more we can do now to conserve our water supply, the greater the chance we have of avoiding restrictions," said the spokeswoman.