Gatwick restaurant boss David Hartwell guilty of sex attacks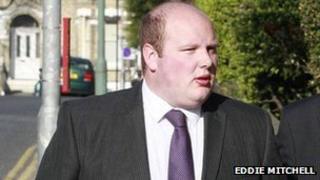 A restaurant manager has been found guilty of sexually assaulting two teenage girls at Gatwick Airport.
David Hartwell, 26, of New Malden, London, had denied 14 charges of sexual assault and two of attempted sexual touching, at Hove Crown Court.
Jurors heard claims he assaulted five women "almost daily" at the West Sussex airport between 2009 and 2010.
The jury was unable to reach a verdict on one count of sexual assault and cleared him of the 13 other charges.
'Pulled into cupboard'
Judge Jeremy Gold QC adjourned the case for a pre-sentence report.
He told Hartwell: "All options will be looked at including custody, particularly given the seriousness of one of the counts."
Jurors heard Hartwell was eventually arrested after one girl told her sister what was happening.
After that complaint was made to police, officers uncovered further allegations, the court was told.
During the trial, the jury heard Hartwell touched the girls intimately, asked them to wear shorter skirts, and pulled one into a cupboard to kiss her.
Gabby Henty, prosecuting, said Hartwell asked one girl to perform a sex act on him on one occasion, groped her and rubbed himself up against her.
She also said Hartwell's DNA was found on the inside of the girl's bra.
Hartwell, of Rookwood Avenue, who is on conditional bail, will be sentenced on 10 May.