London 2012: Torch free towns run alternative relays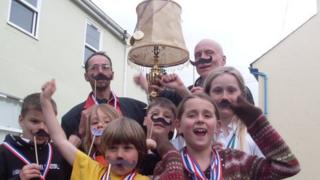 A number of towns and villages are organising their own alternative Olympic torch relays.
Aveton Gifford in Devon is not on the list of villages which the Olympic torch will pass through on its way to London.
Stephen Harding is not among the list of official Olympic torchbearers.
And his torch, a gold-sprayed lamp stand, is not an official torch.
But Mr Harding is determined to make sure that Aveton Gifford is not forgotten as the Olympic torch convoy passes near the village on 20 May.
Despite pleas from the parish council for the torch to come through the village, it will be driven in a convoy along the official route of the A379.
As the convoy travels nearby at about 09:30 BST, the alternative relay of half a mile through the village is intended to start, ending with breakfast in the local pub.
'Olympic spirit'
Mr Harding said: "We were disappointed to find out that the village was going to be left out of the torch relay.
"You would have thought that it would have been easy to divert it through the village.
"But the Olympic spirit is all about taking part, so that's what we're doing."
The nearest places to see the torch being run are Modbury and Kingsbridge, both about three miles away.
Torches for alternative relays cannot resemble the official Olympic torch according to guidance from London 2012 , so Aveton Gifford came up with its own version.
"We're taking a stand on this important issue, a lamp stand," said Mr Harding.
Parish council chairman John Coates said: "It's like a legacy from 1948, when the Olympics were last held in the UK.
"Our version of the torch and its delivery through the parish is much closer to the Olympic idyll than the official version speeding past on four wheels."
The village of Sherburn in Yorkshire will also not see the official torch pass through its streets, despite a petition signed by more than 2,000 people to organisers.
It is holding its annual gala on 19 May with an Olympic theme and its own torch relay with children from schools in the area.
Organiser Myrtle Hall said: "We were so disappointed that it was going on the bypass.
"After all it is a shorter route through the village.
"But we really wanted the children to see something so we came up with the idea of our own relay."
'Most disappointed'
Names of alternative torchbearers were pulled out of a hat and one of the local schools has taken on the task of designing the torch.
"We really wanted the Olympic torch, but unfortunately we have not got there," said Mrs Hall.
"This will make up for it in some way."
Uckfield in Sussex is also missing out, so local people are organising their own relay as an alternative to the official relay on 17 July.
Children from seven schools are to take part in the three mile Alternative Uckfield Torch Run with a torch designed by Uckfield Community Technology College (UCTC).
Organiser Dorothy Sparks, chairman of Uckfield Festival committee, said: "We saw where the torch relay was going in November last year.
"I was most disappointed for the children more than anyone else because they would not be able to take part in this iconic day.
"The idea was to make up for it and let everyone in Uckfield take part in something that will remain with them for the rest of their lives."
UCTC design and technology teacher Rory O'Connor said: "I was surprised to find out that the torch was going on the bypass when it could so easily have come through Uckfield.
"We didn't want to miss out and it made me feel that we should be celebrating it ourselves."
From 19 May 2012 the Olympic torch relay will tour the UK in the run up to the London Games - with about 8,000 torchbearers, travelling by convoy for 40% of the time.
A spokesman for London 2012 said the flame was being taken to within 10 miles of 95% of the population.
He said: "We understand the disappointment of those that missed out, but there will be other communities nearby that they can go to.
"In an ideal world we would have loved to go through every village, but we have only 70 days for the relay and time does not allow us to do that."
Every local authority wanting the torch to come through had been given the opportunity to put themselves forward "to ensure that the Olympic torch relay showcases the diversity of the UK".
London 2012 has published a guide for those who want to create their own local events with an Olympic theme.