Woman 'devastated' after conned out of life savings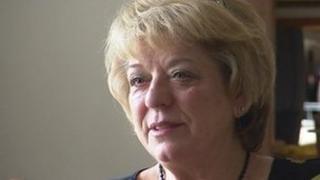 A woman who was conned out of her life savings by a man she met through an online dating site says it has "devastated" her life.
Sue Hall, 63, from Croydon, says she gave about £74,000 to David Cook, from Gravesend, after he told her stories about his children being in trouble.
Cook, 65, was sentenced in October to two years in prison for fraud.
The pair had met through a dating website and found that Cook had known Ms Hall's late father.
Both Cook, from Winchester Crescent in Gravesend, and Les Hall had worked as comedians in north Kent.
Ms Hall said part of the reason why she had started to trust Cook was that he had known her father.
'Emotional blackmail'
She started lending money to him in May 2009.
Ms Hall said Cook had given her various reasons why he needed funds, such as starting a new business and preventing his son from losing his home.
"I had a lot of emotional blackmail about his son and his three kids," she said.
Ms Hall reported Cook to police after a cheque he had written her was found to be fraudulent.
She said: "It has absolutely devastated my life. I've got to sell the house. I feel such an idiot for having done it.
"He was very pleasant and he used to say some funny jokes. They say the best medicine is to laugh but unfortunately all he's done is made me cry."
Mary Balfour, from the Association of British Introduction Agencies, said if a person was asked for money by someone they had met via a dating website they should "say no" and "block all emails from them".
"Let the site which you are member of know about them."