John Doherty mobile home park victims share £750,000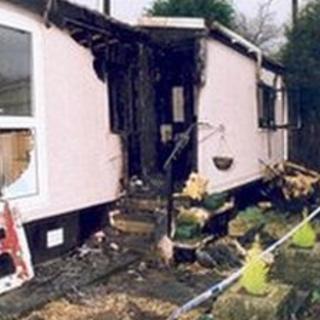 A criminal who terrorised residents of a Worcestershire mobile home park has paid about £750,000 to his victims at that and another West Midlands site.
John Doherty and his brother Simey Doherty of Sapcote in Leicester, were jailed in 2009.
They admitted arson, fraud and blackmail involving residents of The Glen in Blackwell, Bromsgrove.
West Mercia Police said John Doherty also defrauded people buying homes at a site he owned in Coventry.
The pair ran their campaign of arson, threats and intimidation in Bromsgrove during the spring of 2007.
Most of the money paid out by John Doherty was recovered from the sales of The Glen and the site in Harvest Hill, Coventry, with victims receiving over 90% of their original claim, police said.
'Unimaginable terror'
Over £500,000 has gone to the 19 parties affected in Bromsgrove with about £240,000 split between four victims in Coventry.
Det Insp Mark Colquhoun, from West Mercia Police, said: "The elderly and vulnerable residents of The Glen went through unimaginable terror because of the Dohertys and their associates.
"Four people were so scared they sold their homes to them for just £1 when the market value was at least £75,000.
"It was vital these residents were compensated, not just for the distress they went through but for the financial losses they sustained.
"While I am pleased that residents from The Glen have been compensated, this is tempered by knowing that a few of the older victims have since died and never saw this money. Instead it will go to their families."