John Major pays tribute to his 'old friend' Lord Newton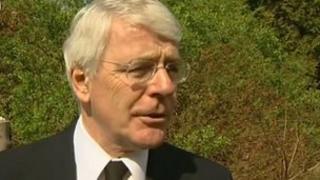 Former Prime Minister, John Major has paid tribute to Lord Newton of Braintree while attending his funeral at Coggeshall in Essex.
"I don't think there is anywhere else I would have liked to be today, nor many other people I saw in church. Tony was a very special person," he told us.
Tony Newton was MP for Braintree for more than 20 years and enjoyed a close relationship with John Major when he was in office.
"I will remember him with very great affection - we worked together for a long time and we had a lot of fun together," said John Major.
"People forget that in politics you form very close alliances with some people.
"You work together in departments, you work together across departments and I have so many memories of working with him."
Six hundred and fifty mourners packed St Peter ad Vincula church and others listened to the service over loudspeakers outside.
As well as Mr Major they included Cabinet ministers past and present, like the Health Secretary, Andrew Lansley.
Public life
Michael Howard, the former leader of the Conservative Party said: "He was loved and respected on all sides of the both Houses of Parliament and he will be greatly missed."
Tony Newton studied PPE at Oxford and worked for the Conservatives before unsuccessfully contesting Sheffield Brightside.
He won in Braintree in 1974 and became a government whip five years later.
Margaret Thatcher made him a health minister, a trade and industry minister and then Secretary of State for Social Security.
As Baron Newton of Braintree he continued to play a leading role in public life, often speaking in the Lords.
Public service
Canon Philip Need, the Rural Dean of Braintree, said:
"I think this service brings together a huge amount of respect for Tony from national, public, community and local life. He's a man who's made a huge contribution in a large number of ways."
Lord Newton, who chaired the enquiry into the Buncefield oil depot explosion in Hertfordshire, sat on the boards of several local mental health trusts.
He also became president of the East Anglian Childrens' Hospice.
He dedicated his life to public service.
It was a life described in the service as "so well and fully lived".