Tickets on sale for 'banned' Gillingham - Swindon match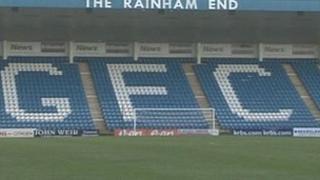 Tickets have gone on sale for a League Two football match between Gillingham and Swindon Town in spite of all fans being banned from the game.
Medway Council issued prohibition notice for the game on 21 April due to "serious concerns" over public order at the Priestfield ground.
On Friday, Gillingham FC sent Swindon Town FC its full allocation of tickets and they went on sale earlier.
Swindon Town is warning fans they may not be allowed into the ground.
The prohibition notice was issued after a row between Gillingham Football Club and Kent Police about the costs of policing the game at the Priestfield stadium remained unresolved.
Swindon Town is offering to sell tickets on the basis the game will go ahead as normal in front of fans.
In statement, the club said: "Whilst this situation remains on-going there is a remote risk that the fixture may not proceed as scheduled.
"In this event, any fan purchasing a ticket will receive a full refund for the value of the ticket but the club cannot be held responsible for any advance travel costs that may be incurred."
Previously Councillor Mike O'Brien, from Medway Council, had said that Kent Police had "serious concerns about public order at the ground".
He said: "We have done this following advice from Kent Police that they have specific intelligence concerning the match and its fans.
"The risk is so serious for fans that, until steps have been taken to reduce it to a reasonable level through agreeing adequate policing levels, spectators will be prohibited from attending the match."