Hayley Okines' sister completes run to Cranbrook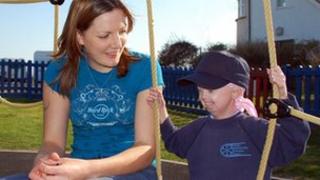 The sister of a 14-year-old girl with a rare ageing condition has completed her challenge to run the equivalent of 10 marathons in 10 days.
Hayley Okines, from Bexhill, East Sussex, has progeria, which means she ages eight times faster than normal and has the body of a 100-year-old woman.
Her sister Charlotte, 26, and friend Becky Reid, 39, started their journey in Yorkshire on 5 April.
They completed the 272 mile run to Cranbrook in Kent on Saturday.
The friends have raised more than £5,000 and set up the UK branch of the Progeria Family Circle so that children with the condition can all get together.
The pair set off from the Yorkshire home of Harry Crowther, another progeria sufferer, on 5 April.
Ms Okines said: "It's one of the most incredible journeys I've ever done and to see my sister so proud of me, that's what it was all about for me.
Pioneering treatment
"I wanted her to be proud of me in the way that I am proud of her."
Ms Reid said: "We had a little bit of a tough time in the middle, and spirits were pretty low in day four and day five when the rain came.
"You just think what other people have to get up to every morning, and think: 'Yes, you can do it'."
Hayley is one of only 83 people in the world known to have progeria, which was diagnosed just before her second birthday.
The condition causes problems normally found in the elderly such as arthritis and heart disease.
Hayley was predicted a life expectancy of 13, but has been receiving pioneering treatment in Boston, USA, for four years.
Speaking as the friends crossed the finish line, she said: "I knew she'd be able to do it. I'm ridiculously proud. Words can't even say how proud I am."