New CQC warning expected at James Paget Hospital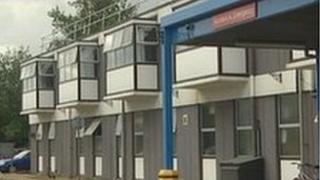 A hospital serving Norfolk and north Suffolk is likely to receive a new formal warning over patient care, an email leaked to the BBC has revealed.
The email said Care Quality Commission (CQC) inspectors had "moderate concerns" about patient care at the James Paget University Hospital in Gorleston after a visit on 1 March.
It also said inspectors had "minor concerns" about patient record-keeping.
The hospital said it could not comment until the latest report was finalised.
The email, which outlines details of the latest draft CQC report at the hospital, said inspectors had "identified improvements", but the hospital would need to comply with the new concerns by 31 May.
Inspectors would then need to carry out another visit to check on progress.
The email also said inspectors visited the hospital a second time on 12 March to monitor its medicine management, which had been previously highlighted as a problem.
Third warning
However, the email said the hospital expects to have adhered to the CQC's guidelines on that matter.
The full CQC report is likely to be published next week.
The new warning would be the hospital's third in less than a year.
In September 2011 inspectors found patients' nutritional needs were not being met and in November it was warned for failing to monitor patient care systems.
Both warnings were subsequently lifted following further inspections.
The hospital's interim chief executive, David Hill, said: "The trust looks forward to discussing the CQC's latest report and wider developments with our local community.
Top priority
"At the moment, the report is not in the public domain and is under embargo. Therefore our hands are tied and we are unable to comment.
"I have been in post for three days but these issues are my top priority."
Brandon Lewis, MP for Great Yarmouth, said: "There's been an issue there in the structure of the management and how the management work and their relationship with the frontline staff - that has to be dealt with.
"The team there now understand that, they're working to deliver that.
"We have high hopes for the new chief exec and hopefully when we get the new chairman on board and the long-term chief exec in place they can start making real progress from a position of certainty and long-term planning."
Peter Franzen was appointed interim chairman at the James Paget in November after previous chairman John Hemming resigned.