WWI water carrier restored by Kent historians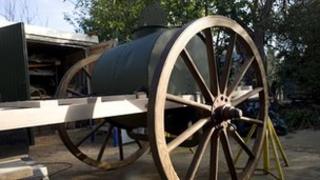 A rare World War I water carrier is being restored by a group of military historians in Kent.
The Queen's Own Royal West Kent Regiment Living History Group has almost completed its work on the 108-gallon (490-litre) horse-drawn tank.
There are thought to be no other known fully-restored water carriers of this kind in the UK, said the group.
The project was funded by Kent regimental associations, South East Water and Southern Water.
The tank was built in 1915 to supply water to soldiers fighting in the trenches on the front line.
'Memorial to men'
When restoration of the carrier started seven months ago, all of its wood work was rotten.
Carpenter Nigel Bristow, from Tonbridge, who is leading the restoration, said: "It had all perished. The only saving grace was the tank itself was almost in pristine condition."
Mr Bristow said the repair work was guided by some original construction blueprints which were found during the group's research of the carrier.
He said: "It has been a labour of love for the team but we have all enjoyed seeing the cart come back to life and are looking forward to showing new generations this important piece of history.
"We want it to become a rolling memorial to the men who died in the Great War, as well as the horses which unwittingly gave their lives as well."
The water cart is going to be displayed at agricultural shows in Kent and Sussex over the summer.