National Express West Midlands seeking 1,700 employees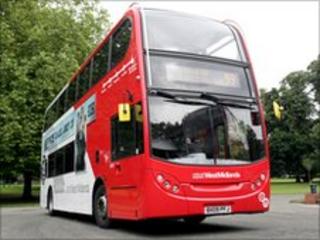 A West Midlands bus company is aiming to fill 1,700 posts over the next three years.
National Express West Midlands said it had signed a "groundbreaking employment partnership" with Job Centre Plus.
The firm said the Routes to Work scheme was also designed to increase the number of young people and women who drive buses in the region.
Most vacancies will be created from staff turnover, including a large number of drivers expected to retire.
However, under the agreement 125 new jobs will be created, including additional route managers "to improve the punctuality and reliability of key services across the region", National Express West Midlands said.
'Rewarding and flexible'
Peter Coates, the firm's managing director, said: "I am delighted to sign this new groundbreaking agreement and promote the jobs we need to fill over the next three years.
"Routes to Work will see both National Express West Midlands and the Job Centre Plus take new action to get more young people and women behind the wheel of our buses."
The firm, which runs services in Birmingham, the Black Country and Coventry, said most roles would be bus drivers which required a full driving licence and excellent people skills.
Mr Coates added: "The job of a bus driver is rewarding, flexible and very social - as well as providing great service to local people.
"We have fantastic staff in the West Midlands and successful applicants would be joining a large and established business that plays a key part in many peoples' lives."