David Willetts in universities and charities tax row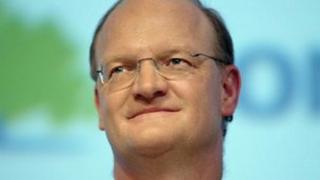 The Universities Minister, David Willetts, came to open Anglia Ruskin's new University College in Harlow and walked straight into the charity tax row.
Mr Willetts was informed that Anglia Ruskin had received around £9 million from private benefactors.
And the university illuminated the case against the proposed changes.
At some length, we believe.
Under the plans unveiled in the Budget there will be a cap on how much tax relief people can get when they give money to charitable causes.
Their fear is that people won't give as much money if there's no tax benefit.
But the minister tried to be as re-assuring as possible.
"There are a whole range of organisations including universities that benefit from charitable donations.
"As we consult on these proposals we will make sure that the philanthropic support for universities and educational establishments is properly protected, as the proposals are developed in detail."
Future ambitions
University College Harlow is the latest addition to learning in the region.
The £9 million centre will teach education, journalism and graphic design.
Of course, Anglia Ruskin is not alone; nearly every university in the region has dedicated staff who try to hunt out large donations.
Its Vice Chancellor, Professor Michael Thorne, told us: "We have ambitions well beyond what any government can afford to support us to achieve.
"We have to look, therefore, to wealthy private individuals, trusts and so on to support those ambitions and make sure that we can do all the things people across the world think we should be able to do.
"Anything that gets in the way of that is going to harm each and every university in the country."