Atherstone-on-Stour fire: Trial begins over firemen deaths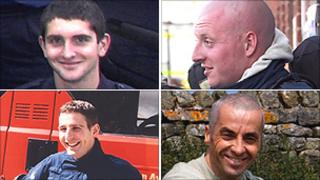 Three fire service managers have pleaded not guilty to charges relating to the deaths of four Warwickshire firefighters in a warehouse blaze.
Timothy Woodward, 51, Paul Simmons, 50, and Adrian Ashley, 45, are charged with manslaughter by gross negligence.
Ashley Stephens, 20, John Averis, 27, and Darren Yates-Badley, 24, died in the 2007 fire in Atherstone-on-Stour. Ian Reid, 44, died later in hospital.
The trial at Stafford Crown Court is expected to last 10 weeks.
Mr Woodward is a station manager from Leamington while Mr Simmons, from Hampton Magna, and Mr Ashley, from Nuneaton, are watch managers for Warwickshire Fire and Rescue Service.
The large fire started at the vegetable packing plant in Atherstone Industrial Estate, on the site of a disused airfield, in the early evening of 2 November.
A massive search operation, involving more than 100 fire officers from Warwickshire, Hereford and Worcester and the West Midlands, took place at the packing plant for the firefighters' bodies.
Mr Yates-Badley and Mr Stephens were based at Alcester fire station.
Mr Reid was based at the Rugby and Stratford-upon-Avon fire stations, while Mr Averis was at Stratford.