Stevenage MP makes plea to upgrade rail stations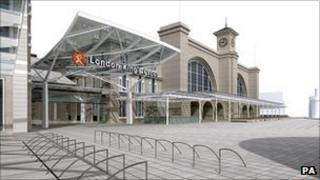 London commuters, including many of the region's MPs, have been united in their praise of the refurbishment of King's Cross station.
But MPs were told this week that improving smaller rail stations is much more of a hit and miss affair.
The MP for Stevenage, Stephen McPartland, used a debate in the Commons to call for better funding for such stations and he managed to secure a promise from the rail minister that things will improve.
Mr McPartland is a founder member of the Knebworth and Stevenage Rail Users' group and a daily commuter to London. So he knows his subject well.
Second class?
"The current system (of funding) does not work," he told MPs.
"Network Rail effectively owns and manages station improvements so, in reality, the money goes towards the big iconic category A projects, such as King's Cross, when local stations also need investment."
Inevitably, Stevenage is a category C station while poor, old Knebworth is a category E station.
Even though both have recently seen quite a bit of investment, Mr McPartland still feels they and other commuter stations are losing out.
"Network Rail invests a huge amount of money in stations with low customer satisfaction and high footfall.
"Money will go to King's Cross where there are 25 million passenger movements a year, Leeds where there are 21 million, and other northern regional stations."
But clearly, not to Stevenage or many other similar stations in the east.
'Little investment'
Mr McPartland's solution is to change the landlord and tenant relationship so that the train operating companies, rather than Network Rail, are responsible for stations and their upkeep.
"This is what passengers and the train operating companies want. They want the train operating companies to have the ability to get on with the job."
There was no shortage of MPs to support his case.
Simon Hart (South Pembrokeshire) said the present set up meant that people were ducking their responsibilities.
Gareth Johnson (Dartford) said modernising stations would improve passenger safety.
The DUP's Jim Shannon (Strangford) said it would encourage tourism, while John Stevenson (Carlisle) complained that his local station had seen little investment over the last 40 years.
Pro-rail government
Often in this kind of debate the minister has little to say by means of reply but Norman Baker is a self confessed rail enthusiast.
He declared his government to be "the most pro-rail government that this country has seen for decades".
He agreed with Mr McPartland that transferring more responsibility to the train companies for the upkeep of stations would improve things even further.
"We are committed to giving train operators full responsibility for the management and operation of many stations, we are starting that process now in stations covered by the (new) Greater Anglia franchise," he said.
He also reeled off a list of other pots of money which were available to improve lower category stations, he talked about match funding for projects, and partnerships with local councils.
"We are now seeing the belief in railways restated," he declared.
"For a long time stations were regarded as something to be embarrassed about, now there is a new confidence about the railways."
For the thousands of commuters from the East who use the railways - particularly those who wait on the smaller often overcrowded platforms - improvements can't come soon enough.