Sea cadet's fatal fall from TS Royalist was misadventure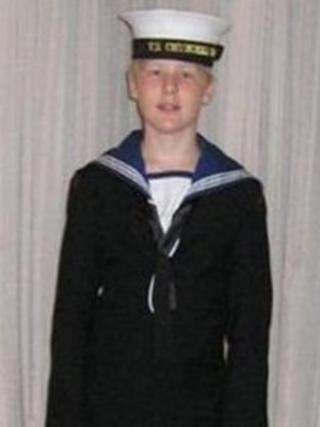 A verdict of death by misadventure has been recorded at the inquest of a sea cadet who fell from the rigging of a training ship.
Jonathan Martin, 14, died after hitting the side of the TS Royalist and falling into the sea off Gosport in Hampshire on 2 May 2010.
He breached safety rules and unclipped his harness to help another cadet, Portsmouth Coroner's Court heard.
The teenager, of Ashford, Kent, was airlifted to hospital but died later.
Jonathan had been taking part in events to mark 150 years of the Sea Cadets movement when the accident happened.
Harnesses changed
Howard Flegg, marine accident investigator for the Marine Accident Investigation Branch (MAIB), said: "He fell to the deck because he unclipped his belt harness contrary to his training and onboard procedures for work at that position.
"However, the MAIB has highlighted concerns over the supervision of cadets and suitability of belt harness provided."
The ship's owners, the Marine Society and Sea Cadet Charity (MSSC), told the inquest different harnesses were now in use and supervision of cadets had been increased.
Portsmouth deputy coroner Robert Stone said: "In my opinion, the actions of the MAIB and MSSC as a result of the accident mean that there is no-one to whom we need to report.
"Steps have been taken to make right something which had gone wrong.
"Whatever safety procedures are in place, accidents can happen.
"There is some talk of the young cadets feeling responsible for what happened, while I understand their feelings, they cannot be held in any way responsible."
'Very confident'
The ship had anchored at Stokes Bay around 20:00 BST on 2 May, and Jonathan and a number of cadets had volunteered to go up the mast to bring the sails in.
Jonathan, who had been a cadet for at least two years and was described as "very confident" working at heights, had first brought in the port-side topsail.
He then went down to the fore course yard, the lowest of the yards, and realised a female cadet at the end was having difficulties.
As he stepped around another cadet to help her, Jonathan slipped and fell from the yard.
The inquest heard that Jonathan had been seen by other cadets unclipping his harness on several occasions during the previous days but no-one had alerted the crew supervisors.
A post-mortem examination showed that he died of chest injuries caused by a fall.
Martin Coles, chief executive of MSSC, said after the inquest: "Jonathan's loss continues to be felt deeply by the charity and our sympathy remains with his parents.
"The safety of our staff, volunteers and cadets is paramount to the charity as demonstrated by 30,000 cadets having sailed on TS Royalist over the last 39 years without similar incident."