Mayoral referendums: The mayors of the twinned cities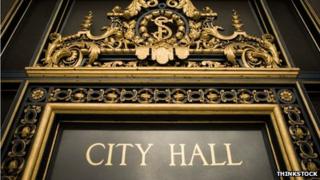 On 3 May voters in 10 English cities will decide whether or not their council should be headed by a directly-elected mayor.
Tann vom Hove, senior fellow for the international think-tank City Mayors foundation, said the question of whether English cities should have directly-elected mayors did not have a simple answer.
"Much depends on what powers a mayor should be given and how power is shared with councils and other levels of government," he said.
"We feel the current batch of referendums should not have gone ahead without first asking what's wrong with local government in England and what improvements are needed.
"The level of debate seems to have boiled down to either 'An elected mayor will turn Bradford into a world city' or 'An elected mayor will mean the end of local democracy as we know it in Bradford."
Broadly Labour and the Lib Dems have been less supportive of the idea of directly elected mayors with some Labour councillors actively opposing them.
Although some Labour people do support them: former Labour Transport Secretary Lord Adonis said mayors would have "greater popular recognition" than local politicians currently have.
In Birmingham a No campaign has argued about the dangers of concentrating power in one person's hands.
In Nottingham, the Labour council is leading the No campaign, putting up posters around the city.
In Newcastle, Labour and the Liberal Democrats - the two main political parties in the city - are largely opposed to the idea.
Some unions also oppose the plans - in Sheffield Unison has argued it is being "imposed" on the city with "no public demand".
But Prime Minister David Cameron is strongly in favour of elected mayors.
He said those chosen will get to sit in an English "cabinet of mayors" and be given the opportunity to lobby at the very top of government.
Not everyone in the Tory party agrees though: Conservative Birmingham City councillor James Hutchings, who is campaigning against an elected mayor, said voters were not interested in having a mayor and were "ill-informed" about it.
Many of the cities holding referendums are twinned or partnered with cities which already have directly-elected mayors.
BIRMINGHAM AND CHICAGO
Birmingham and the US city of Chicago have been sister cities since 1993.
Rahm Emanuel was elected the 55th mayor of Chicago in February last year.
He was well-known prior to election because he served as the White House Chief of Staff in President Barack Obama's administration.
While there he helped pass laws on the economy, the reform of Wall Street and health care.
He had also served in the Clinton White House from 1993 to 1998.
His national government background is similar to some of London's mayoral candidates and perhaps shows the high-profile standing required to secure the top job in one of the biggest cities in the US.
NEWCASTLE-UPON-TYNE AND MALMÖ
The Swedish city of Malmö is run by a city council with 61 elected members.
Councillors are chosen by residents in elections held every four years.
The city council in turn elects an executive committee, consisting of a chairman, first vice-chairman and second vice-chairman.
The chairman is the leader of the city council and is responsible for ensuring council meetings are run according to the rules.
According to City Mayors this form of local government is common in Sweden with mayors or chairmen elected by council members.
NOTTINGHAM AND LJUBLJANA
Next year will see Nottingham and the capital of Slovenia celebrate 50 years of twinning.
Ljubljana has had a directly-elected mayor since 1995.
At the 2012 elections, 224,385 people had the right to vote, and the turnout was 103,327 electors, meaning 46.05% of the electorate voted.
The mayor of Ljubljana, Zoran Janković, has offered his advice to any prospective mayors for Nottingham.
He said: "The key to being a good mayor is that you must always work to the benefit of your citizens, you have to know your city and its needs and you have to have a clearly defined vision and, together with your team, work in line with it. Then the results flow inevitably.
"It's necessary to respect diversity, to encourage tolerance and to take time for every individual.
"I have once-monthly meetings with citizens that we call "Open Door Days" and at these, I am accessible to everyone that needs me."
A spokeswoman for the mayor's cabinet said having a directly-elected mayor gave people the chance to have a say in who governed their city.
"A directly-elected mayor is an expression of greater democracy, as voters are able to make a real choice between the various candidates," she said.
SHEFFIELD AND KAWASAKI
Sheffield has had a "friendship agreement" with the city of Kawasaki, in Japan, since 1990.
The current mayor of the city is Takao Abe.
He has worked to expand enterprise in the city by supporting research and development in areas such as nanotechnology, environment, and life sciences.
Andrew Stevens, research and partnerships manager for the Japan Local Government Centre, said the mayoral system of local government was introduced in all Japanese cities under the 1946 Local Autonomy Law.
Speaking about voter turnout in Kawasaki's mayoral elections he said: "At the last mayoral election in the city in 2009, Mayor Abe's third, the turnout stood at 36.09%.
"That is lower than average as in many local polls the turnout exceeds the national level."
But he added this was probably down to Mayor Abe being a two-time incumbent which may not have produced a heated race.
WAKEFIELD AND KONIN
Konin, in Poland, has chosen its mayor through direct elections since 2002.
The current mayor of Konin, Józef Nowicki, has been in office since 2010 after winning the election with 53.57% of the vote. Voter turnout was 29.52%.
Mr Nowicki is strongly in favour of directly-elected mayors.
He said: "I am convinced that the mayor chosen in direct elections by inhabitants in secret ballot and not by the council has without doubt a better situation as the manager of the city.
"First of all he has closer contact with residents and better knowledge of their needs and problems."
He said a mayoral candidate could use his or her election campaign to identify local issues and talk directly to voters while voters could use the campaign time to find out what a candidate planned to do for their city.
"Direct elections are the best form of democracy and present the best opportunity to reach an agreement about who should solve the different issues present in a community," he said.