Labour reveals police commissioner candidate shortlists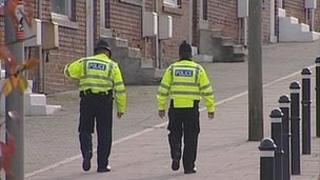 The potential identities of Labour's candidates for the new police commissioner posts are gradually emerging.
This week the party has completed the shortlisting of contenders in Cumbria, Durham and Northumbria.
In Cumbria I understand the contest will be between Carlisle councillor Michael Boaden and housing association manager Patrick Leonard.
Michael Boaden had hoped to succeed Eric Martlew as the Labour MP for Carlisle at the last election, but the seat was won by the Conservatives.
Patrick Leonard was chief executive of Allerdale Council until 2004, when he left to become a manager of the Carlisle Housing Association.
Former MP
In Northumbria, the two shortlisted candidates are the former Redcar MP Vera Baird, and Sunderland councillor Tom Foster.
As well as being a barrister by trade, Vera Baird was of course a member of the last Labour government as Solicitor General.
She was unseated in 2010 in Redcar by the Lib Dems after the closure of the town's steelworks.
As anyone who follows her on Twitter will know, she's been campaigning hard for the nomination. I understand she has rented a home in the area to make sure she meets the residency qualification.
Tom Foster is a current member of the existing Northumbria Police Authority and has been a councillor in Sunderland since 1998. He's also a former football referee.
In Durham, three candidates have been shortlisted.
Peter Thompson is the existing chair of Durham Police Authority. He has served as a councillor in Durham in the past, and has a background in local government. He's also been a magistrate.
He had opposed the creation of police commissioners in the past.
Ron Hogg is a former Deputy Chief Constable of Cleveland Police but also served as Assistant Chief Constable in Durham. He also held a national post tackling football hooliganism.
Bill Dixon is the leader of Darlington Council and has sat on the council since 1978. He's also a member of Durham Police Authority.
Ongoing investigations
I understand the Cleveland shortlisting will take place next week.
Two local councillors - Barry Coppinger and Sajaad Khan - have said they are seeking the nomination.
That could be the toughest job given ongoing investigations into the force's top officers and officials.
Labour party members will vote by post over the summer to decide who should be selected ahead of the police commissioner poll in November.
The identity of those who'll stand against them is much less clear.
The Liberal Democrats may decide not to put any candidates up. The national party doesn't support the idea so won't be financing any campaigns.
It's possible the local parties could still decide to select someone, but so far the only possible name to emerge has been former MP Lembit Opik.
There have been some newspaper stories suggesting he be could be recruited to stand in Northumbria as he is a former Newcastle councillor.
But I have been told that was a suggestion born out of a few late night drinks at the party's spring conference in Gateshead, so may not come to anything.
Untypical candidates
The Conservatives in the North East are looking to spread their net more widely with plans for an open hustings.
The party says it wants to hear from potential candidates from outside the party and outside the traditional political class.
Since the commissioner is their party's idea they will be keen to field high quality but also untypical candidates.
Perhaps that's an admirable aim, but so far I have heard precious few suggestions of exactly who that might turn out to be.
With any Conservative candidate facing a tough task in Labour-dominated Northumbria, Durham and Cleveland, it might not be a big draw.
Cumbria is more winnable.
Some of the smaller parties will be weighing their options too. I understand the Greens have yet to decide whether to field candidates.
Parties with limited resources will need to decide whether it's worth their while as they would have to campaign across large force areas.
Prominent independent
It does seem likely we will see some independent candidates though.
Hartlepool mayor and current police authority chair Stuart Drummond hasn't ruled out standing for the Cleveland role.
The most prominent independent - Middlesbrough mayor Ray Mallon - hasn't yet said whether he'll be a candidate.
As a former police officer he has a good CV for the job, but equally he has a history with the force which might make him hesitate.
After we find out who the candidates will be, the next challenge will be to motivate voters to engage in the campaigns during the non-traditional election month of November.
The police commissioners will oversee budgets, set priorities and have the power to hire and fire the chief constable.