Are big city voters ready to back elected mayor idea?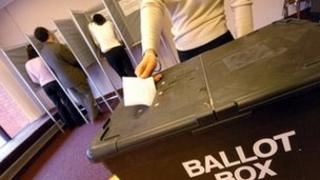 It's fair to say the debate on whether to have elected mayors has failed to ignite intense public interest in many of the cities that will vote on the issue next week.
Somewhere like Birmingham has seen high profile candidates emerge and a respectable level of debate.
But in Newcastle, campaigning has been low-key with the arguments often taking place among a relatively restricted circle of the politically-engaged.
The campaigners who want to see an elected mayor run the city have not even had enough money to put leaflets through people's doors.
Popular demand
This was always going to be a danger in a referendum that's a product of government policy and not popular demand.
There has been a mechanism in place for the people of Newcastle to petition to have a mayor for more than a decade, but it has never happened.
Instead, the referendum's taking place now because the coalition is keen on the idea of elected mayors running England's biggest cities.
We'll find out next week whether voters share that enthusiasm.
But I did get to test the temperature in Newcastle in a limited way when I took the yes and no campaigners into the city centre.
We placed them in the middle of bustling Grainger Market and invited shoppers to pose questions.
And actually over the two hours we did some good business. There were people who'd made up their minds either way, but quite a few who just wanted to know more.
Some wanted to know whether a mayor would offer value for money, others whether he or she would have the powers to tackle a particular problem. Others just wanted to know who that mayor might be.
There were some who saw other mayors as a force for good, others who had been turned off by what they saw as the personality politics of Ken v Boris.
We also saw a few people turn up who don't even have a vote on the issue as they live outside Newcastle's boundaries.
That, perhaps, at least offers evidence to support the government's contention that a mayor in Newcastle could be a figure of importance beyond the administrative area he or she will govern.
Extra powers
But there are problems for the yes campaigners too.
The government has not really specified what extra powers an elected mayor would have that aren't currently invested in the leader of the council.
Ministers say that will allow individual mayors to decide for themselves what powers they need, and lobby for them.
That makes it a tougher sell though.
And "no" campaigners have been focusing heavily on costs, estimating that with the expense of an extra election and salaries, an elected mayor in Newcastle could cost the city £1m over four years.
That figure is disputed by "yes" campaigners, who say it is based on some dubious assumptions.
But again it has made life difficult for supporters of the idea.
New investment
Perhaps then it was inevitable that the government and "yes" campaigners would focus on something that matters to everyone - jobs.
They argue that an elected mayor will be vital in efforts to attract new investment, and say those voting "no" risk falling behind the cities that embrace the idea.
No less than the Prime Minister has been making that point. And there is some potential government patronage at stake here.
In Newcastle, the city council is waiting to hear whether it'll get a so-called "city deal" from the government. It would give Newcastle extra powers and resources to potentially create thousands of jobs.
But the government says it won't make any decision on whether to sign off that deal until after the mayoral referendum. It says it wants to be satisfied that there will be good enough governance in the city for it to deserve the deal.
The implication: if you vote for a mayor, the promised land awaits.
Some, including the Newcastle Labour MP Chi Onwurah, have accused the government of trying to blackmail the city.
And in reality the picture is more complicated.
Manchester has had its city deal approved ahead of its referendum because it has already put in place a system to get the councils in Greater Manchester to work together.
If that's been enough to satisfy the government, then the same deal would presumably be open to a mayorless Newcastle if it got together with the other Tyneside councils.
And it's hard to believe any government that says it is focused on growth would want to stop a council creating jobs purely because it didn't have a mayor.
But with the coalition so committed to the merits of mayors it is likely that cities which go for the idea could get some form of preferential treatment.
The PM has already talked about forming a cabinet of city mayors to meet with him. The coalition would certainly want them seen as a success.
Mixed polling
So can we tell what the voters make of all this?
One poll by YouGov suggests more than half of northern voters support the idea with only a quarter firmly opposed, but that does not give specific data for Newcastle or any other city.
And a contradictory Comres poll suggests more than half of voters believe a mayor would be a waste of money.
That leaves us with some canvassing by "yes" campaign supporters in parts of Newcastle. They say that put the "no" vote four percentage points ahead of "yes", but with a quarter of voters still undecided.
The reality is that nobody can safely predict the result of a campaign that has not really made much impact on the public.
If you can forgive a politician's cliché, the only the poll that will count in Newcastle and other cities will be on May 3.