Lowestoft & Great Yarmouth fishing boat Lydia Eva takes passengers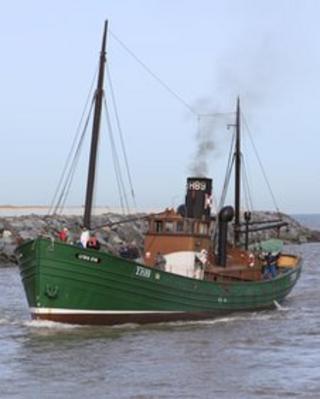 The last known example of a boat that once plied its trade off the east coast is to take its first paying passengers between Suffolk and Norfolk.
A charitable trust has spent £1.2m restoring the Lydia Eva steam drifter, which was built in 1930 to catch herring.
The boat is due to make a six hour voyage from Lowestoft to Great Yarmouth on Saturday.
Eight passengers have each paid £175 for the trip.
Dona Watson, a trustee, said: "This was a whole way of life for the east coast and she's the last one left."
The trust acquired the coal-powered Lydia Eva in 1990 and after restoration she has been open to visitors, but only when docked in Lowestoft in the winter and Great Yarmouth in the summer.
Maintenance costs
Ms Watson said: "The boat appeals to so many different interests and shows the life of local people and what an incredibly dangerous profession fishing was.
"There's nowhere else you can do it in the world and, compared to going up in a balloon which costs £100-120 for a couple of hours, it is very good value and the experience of a lifetime.
"There would literally have been thousands of these vessels once, but the fashion for herring was replaced by fish fingers."
The trust said maintenance costs were £4,000 a year and it was aiming to have two passenger sailings a month.
Organisers are also trying to arrange a trip to Kings Lynn where she was built.