Darlington Arts Centre proposals could create 100 jobs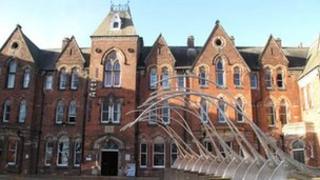 The future of Darlington Arts Centre may be secured if two investors' plans are approved by the council.
A report pledging to transform the centre into a multi-use venue featuring an art gallery and other amenities could lead to the creation of 100 jobs.
The scheme is intended to create a nationally-renowned arts centre and stimulate the development of digital and creative businesses in the region.
The council is due to consider the proposals at a meeting on 5 May.
The venture could see the arts centre converted into a multi-purpose venue containing a boutique hotel, a destination restaurant and an "incubator" space for new businesses, in addition to an art gallery.
The project also includes proposals to retain and improve facilities at Theatre Hullabaloo.
The future of the centre had been thrown into doubt after Darlington's Labour-led council announced it would close this July.
'Interesting move'
The project has been initiated by North East-based investors Andy Bottomley and Graham Thrower.
Mr Thrower said the council was considering granting the pair a six-month window to finalise their proposals, during which no other offers would be considered and three bids which are already on the table would be deferred.
He said the objective of the project was to create a centre which is "commercially viable on an ongoing basis rather than being reliant upon further state or local financial support".
Alison Clark-Jenkins, North East regional director for the Arts Council of England, described the proposals for the site as "exciting".
Darlington for Culture Chairman Nick Brewster said the project that has been tabled was an "interesting move".
He said: "We have always said we would talk to anyone that feels there is a way to save the Arts Centre and it is great that somebody has come forward."