Princess of Wales's Royal Regiment retraces its history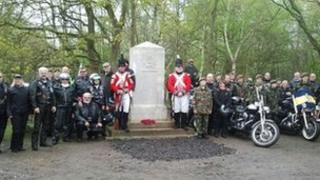 The Princess of Wales's Royal Regiment (PWRR) is retracing a 300-year-old parade route through Surrey and Sussex to raise its profile.
The Tangier Regiment, a forebear regiment of the PWRR, marched from Putney Heath in London to Portsmouth in 1661.
About 100 Harley Davison motorbikes and the Surrey Army Cadet Force are joining the PWRR soldiers along the route.
The PWRR is also marking its 20th anniversary.
On Saturday soldiers, cadets and Harley Davidson riders will follow the route taken by the Tangier Regiment up to Chichester, passing through Guildford, Aldershot, Haslemere and Midhurst.
On Sunday a family day is being held at Clandon House in Surrey, which is the Queen's Royal Surrey Regiment Museum.
'People think we're Welsh'
It is important for the PWRR to raise its profile in the south east of England, from which it recruits its soldiers, according to Capt Keith Roberts.
"The main confusion that we have about us is our regimental title. People think we're Welsh," he said.
The regiment's name comes from Princess Diana who used to be its Colonel-in-Chief.
Capt Roberts added that the PWRR is being more active in raising its own profile as its World War II veterans get older and there are fewer to represent the regiment in communities across the South East.
The PWRR recruits its soldiers from Kent, Sussex, Surrey, London and Middlesex, as well as the Channel Islands and the Isle of Wight.
The regiment formed in 1992 from The Queen's Regiment and The Royal Hampshire Regiment, which were amalgamations of small regiments which used to exist across the South East.