Tornado reaction: Rugby and Essex hit by 'twister'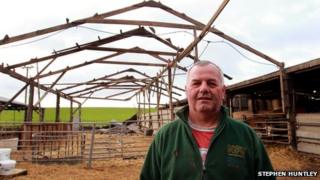 Farm buildings were blown apart and greenhouses were seen flying through the air during two suspected tornadoes in Essex and Warwickshire.
The Met Office said it believed there was some sort of funnel cloud that was potentially a tornado in Rugby at about 18:00 BST on Wednesday.
Essex Police said it had received emergency calls to reports of wild weather on Wednesday afternoon.
Residents from both areas describe what it was like to witness "a twister".
Alan Barrow, farmer, Essex
Essex farmer Alan Barrow said 20 of his chickens were killed when high winds swept their coop off the ground.
Mr Barrow, from Brook St Farm, Whiteash, said: "I was in one of the buildings and I heard the wind blow, the trees started to swirl around in front of the farm.
"I walked outside and the next thing the wind picked me off the ground and threw me over.
"I saw all this debris in the air and I managed to scramble into a shed and take cover.
"It was scary, I was shaking like a leaf after it died down. It took about 30 seconds in all. It was definitely a twister, no doubt about it."
"I think some of the debris has travelled about 500 yards at least."
Adam Trezise, Rugby
Adam Trezise, from Rugby, Warwickshire, said: "I was sitting in my living room when I noticed the wind started picking up outside, then it kept getting stronger.
"My ears popped, then our fence panels at the front were torn out.
"I instinctively grabbed my nine-month-old daughter and both my wife and I stood there in shock."
It passed a few minutes later and he was able to assess the damage.
He said: "Our metal shed was in a neighbour's garden and we had a trampoline from three doors down, inches away from our kitchen window.
"It was nice to see that everyone came together and helped some elderly relatives clear their garden. It seems community spirit is alive and well in our little town."
Matt Little, Essex
Matt Little, from Whiteash Green, Essex, said: "I was more excited than worried. It was like a proper twister really.
"The roof started to lift a little on the compressor shed and down the field it went.
"You couldn't hear the damage happening, it was just the wind you could hear all the time. You could see a bit of debris up in the swirl, but it just moved so quickly."
Raymond Ayres, Rugby
Raymond Ayres, from Wentworth Road in Rugby, said: "I was sat there looking out the patio window. All of a sudden everything started lifting up."
The glass panes flew out of his greenhouse and the fishing net over his pond took off.
His wife Jacqueline, said: "It [the greenhouse] was floating like a feather. It just went up. I said your greenhouse is flying.
"I'm still shocked."
Roy Mushing, Rugby
Roy Mushing, from Wentworth Road in Rugby said: "It touched the ground definitely. It spun me round. It came from the main road, spinning, and nearly blew me over. I've never felt anything like it.
"I'd just took the dog out for a walk. It was about ten to six. I went in to see my wife, who is disabled, lying in the bed.
"I said 'I'll nip down and put the lottery on.' I got down as far as the tree which is about 50 yards and I had a brolly and all of a sudden I've seen the black coming over.
"All of sudden there was this big gush of wind.
"It bent the brolly up and spun me round and a good job it did because it spun me towards the bungalows where all the tiles was flying off the roof and flying into the main road.
"I just came back and made sure they didn't come in there through the roof onto the bed. My wife was ok. There was just a bit of water coming through the loft and I went up and put some plastic up on it, until the council came."