Ambulance station closures will help service: EMAS chief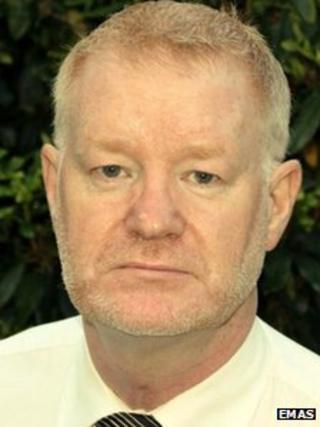 A plan to drastically cut the number of ambulance stations in the East Midlands will help improve patient care, the region's ambulance service has claimed.
East Midlands Ambulance Service is consulting on proposals to shut the majority of the area's 70 stations, leaving as few as 10 'hub' stations.
Chief executive Phil Milligan said the move made sense as most buildings were empty for the majority of the time.
He said the money saved would help to maintain current staffing levels.
The move follows a period where EMAS has frequently been placed among the worst in the country for response times.
Mr Milligan said: "EMAS hasn't been doing well enough. The last three years have been very difficult.
"Over the past few months we've already made some improvements and these changes will help to make us more reliable and prompt in the future."
'Protecting the workforce'
Critics have said closing stations could have a detrimental impact on response times.
Mr Milligan said the move would free up money which could be put towards maintaining paramedic numbers.
He said: "There's a misconception that ambulances spend their time in ambulance stations, but they don't.
"They are either out looking after patients or they are in tactical deployment points such as supermarket car parks or lay-bys.
"Our stations are empty for the vast majority of the day and we're spending a lot of money on empty buildings. That's the money I'd like to spend on protecting the paramedic workforce."
Mr Milligan said EMAS had also been working with roadside assistance service the RAC to examine ways of improving communication with patients and their helpers while ambulances were on their way to them.
The final plans on reorganising the service are due to be drafted by the end of July.