James Allen manhunt: Double murder suspect told to surrender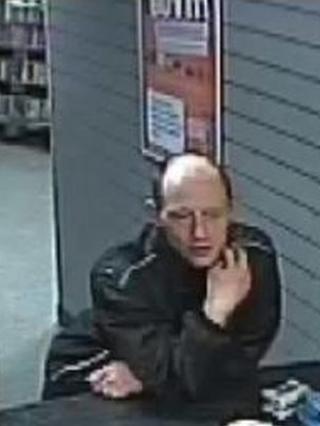 A man suspected of killing two people in their own homes has been urged to give himself up by police.
James Allen, 35, is being sought by police in Cleveland and North Yorkshire in connection with the murders.
CCTV images of Mr Allen, taken in Scarborough, North Yorkshire last week, have been released by detectives.
Colin Dunford, 81, was found dead in Middlesbrough on Monday and the body of Julie Davison, 50, was found in Whitby on Wednesday.
Detectives are also investigating sightings of Mr Allen in the Harehills area of Leeds on Thursday and Friday.
The suspect is described as 5ft 7in (1.74m) tall, with a bald head and tattoos on both arms.
Police said images taken in the past week appear to show he might be growing his hair in a bid to try to change his appearance.
More than 100 detectives from the North Yorkshire and Cleveland forces are working on the case.
Det Ch Supt Gordon Lang, of Cleveland Police, confirmed Mr Allen stayed in a bed and breakfast in Scarborough on Wednesday night.
He appealed directly to him to give himself up.
"You need to be in police custody," said Det Ch Supt Lang. "You know you need to be in police custody, you know what you've done.
"This is a man who cannot be at large, who needs to be arrested and that needs to happen as quickly as possible."
Mr Dunford, who was last seen alive at around 17:00 BST on Sunday, had suffered serious head injuries as a result of a significant assault according to a post-mortem examination.
He was found dead at his terrace house in Leven Street, Middlesbrough, on Monday.
Detectives said there was no sign of forced entry at the house.
Ms Davison, who lived alone, was found dead by her sister at her rented flat in Church Square on Wednesday.
She had also suffered serious head injuries, police said.
Detectives said Mr Allen had known Mr Dunford but did not believe he knew Ms Davison.
Police have warned the public not to approach Mr Allen who they have described as "dangerous".
Det Ch Supt Lang confirmed Mr Allen had been jailed for eight years at Southampton Crown Court in 2003 for offences of burglary and wounding with intent.