Rise in cable theft from railway lines serving the East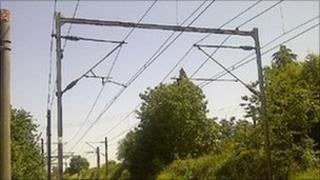 There has been a drastic rise in the amount of cable theft from railway lines serving East Anglia.
The number of thefts rose by 52% in the last financial year - up from 74 in 2010/11 to 113 in 2011/12.
Network Rail, which provides the infrastructure for the lines, said it was too easy to sell stolen copper.
Dave Ward, route managing director, said: "The law needs substantial change in order to take away the easy market for illegal scrap."
Network Rail said it paid out £1.6m in compensation to train and freight operators as a result of the disruption caused by cable theft.
More stringent measures should be imposed on the scrap metal industry and police should have more power to close down traders, Network Rail said.
"We firmly believe that without legal reform we will continue to see thousands of hours of delay and millions of pounds wasted on these crimes," said Mr Ward.
The British Transport Police and Network Rail have set up a dedicated crime team to monitor the Anglia routes, which run from the Liverpool Street and Fenchurch Street stations in London.