New Mill soldier 'outstanding' mourners told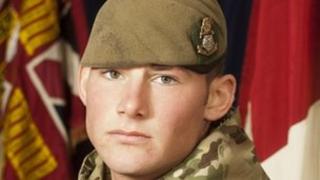 A Yorkshire soldier who died with five colleagues in a bomb attack in Afghanistan was a "fine soldier and an outstanding leader", his commanding officer said at this funeral.
Corporal Jake Hartley, 20, of 3rd Battalion, the Yorkshire Regiment, was killed on 6 March.
Cpl Hartley's coffin was carried into Christ Church, New Mill, West Yorkshire, with full military honours.
Hundreds of people packed the church as the horse-drawn hearse arrived.
He died alongside Private Anthony Frampton, 20, Private Christopher Kershaw, 19, Private Daniel Wade, 20, and Private Daniel Wilford, 21, all also of 3 Yorks, and Sergeant Nigel Coupe, 33, of 1st Battalion The Duke of Lancaster's Regiment.
'Great pride'
Major Malcolm Birkett, said: "Cpl Hartley was an infantryman to his core - tough, proud, hard-working and honest.
"He used his own qualities to inspire those he led. The battalion has lost a fine soldier and an outstanding leader."
Maj Birkett added: "We share great pride that we had the privilege of serving alongside these men.
"Their selfless sacrifice has left us even more resolute and focused on our mission in Afghanistan and in continuing the tradition of distinguished service that this battalion has shown this county and country in its 300-year history."
The soldiers, who had only been in Afghanistan for a few weeks, were killed when their Warrior armoured vehicle was blown up by a large improvised explosive device about 25 miles north of the capital of Helmand province, Lashkar Gah.
The force of the Taliban attack - the deadliest single attack on British forces in Afghanistan since 2001 - turned the Warrior upside down and blew off its gun turret.
The funeral of Sgt Coupe took place last week and the funerals of the other four soldiers killed in the explosion will follow in the next month.