Hampshire and Berkshire's chalk streams run dry in drought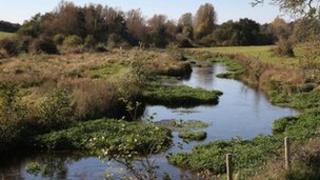 Chalk streams in the south of England are running dry as the growing demand for water disrupts the rivers' natural ability to cope with drought.
And, many people in the area are "totally dependent" on water pumped from nearby chalk streams, Rod Murchie, from the EA, said.
However, the rivers are classed as "over-abstracted" by the EA and campaigners say action needs to be taken before among other things water firms drain them dry.
Dry watercourses on stretches of the River Kennet in Berkshire and Wiltshire, and the rivers Itchen and Test, in Hampshire, are also having a severe impact on wildlife such as trout, otters and kingfishers.
'Every kettle'
Mr Murchie said there is an ongoing debate about what should be done to combat the drought problem in the River Itchen.
He said: "There's talk of a national grid of water, for example moving water through the canal system.
"But if we move water from Wales - slightly acidic water from Wales - it will destroy the river.
"We're not going to pull icebergs up the English Channel to supply people, and you can't build reservoirs here in the chalk because it leaks."
It is not just the water firms that should take responsibility for the decline in water supplies but the public should too, Mr Murchie said.
This includes thinking about how every kettle filled comes straight from the river.
"If you multiply that by 400,000 that is a lot of water," he added.
Despite the wettest April on record, the River Kennet, which runs between Marlborough and Reading, is at half its normal level.
A 10-mile stretch of the canal had to be closed last winter because of a lack of water.
Two dry winters have contributed to the problem, but campaigners say the river loses millions of litres of water a day because Thames Water takes supplies from a borehole at Axford, to pipe to homes in Swindon.
Charlotte Hitchmough, from the Action for the River Kennet group, said: "In a typical year this would be a nice flowing river... if we're not careful we will drain all our chalk streams dry."
Thames Water admits it is causing damage to the river and its environment, but the firm says it is waiting for the EA to finance an agreed pipe line which will half the amount of water used.
Simon Evans, from the company, said: "We have to find a balance, and it's not true to say that we want to keep pumping as much water as possible - we don't - we want to take as little as possible, but we want to make sure we take as much as our customers need.
"It's not an option to just turn the tap off at the Axford borehole, what we have to do is work up a long term sustainable solution and that is exactly what we're doing."
Constant temperature
Chalk streams are fed by groundwater and rely on autumn and winter rainfall to recharge the aquifer and maintain flows through the year.
The process means the water is filtered, making it much clearer and purer than other river water.
The water that seeps out is at a constant temperature, providing an ideal habitat for insects, fish, plants, crayfish, birds and mammals like the water vole and otter.
But, Action for the River Kennet say habitats are being destroyed by the drought and report dead fish have been found on the dried-up riverbeds.
The Kennet, Itchen and Test are particularly popular among anglers for their abundance of trout.
Members of Andover Angling Club say they are worried about the future of fishing there because parts of the river are at such a low level.
More on Inside Out on BBC 1, Wednesday at 19:30 BST