Atherstone-on-Stour fire trial: Court told of rescue bid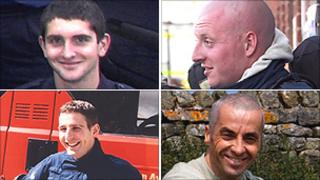 A fire crew commander says he braved "virtually zero" visibility in a warehouse to save firefighters' lives.
Timothy Stowe said he watched as one of four firemen who died in the blaze in Atherstone-on-Stour, Warwickshire, in 2007 apparently made his way to safety.
Mr Stowe said he felt like he had been hit "by a sledgehammer" when he discovered the man had not escaped.
Fire service managers Paul Simmons, 50, Adrian Ashley, 45, and Timothy Woodward, 51, each deny manslaughter.
'Emerged from smoke'
The Crown alleges that firefighters Ashley Stephens, 20, Darren Yates-Badley, 24, John Averis, 27, and Ian Reid, 44, lost their lives needlessly after being sent into "an obviously dangerous situation" for no good reason.
Mr Stowe, a retained firefighter based at Wellesbourne fire station, was sent into the warehouse as the head of a four-man team wearing breathing apparatus on 2 November 2007.
A jury at Stafford Crown Court has heard that members of another crew - with the radio call sign Red 1 - were already inside the warehouse and died as a result of the blaze.
Mr Stowe said: "A short fireman suddenly emerged from the smoke and he was collapsing on to his knees and his head was about to hit the floor.
'Threw him into wall'
"Before he actually collapsed and hit the floor I put my right hand under his left shoulder, scooped him up and threw him into the left-hand wall that we were detailed to be on.
"I did that because I didn't want the risk of him standing up and going off in another direction and becoming lost."
Mr Stowe said he watched the fireman disappear into a corridor and what he thought was "safety".
Watch manager Mr Simmons, from Hampton Magna, Warwickshire, watch manager Mr Ashley, from Nuneaton, and station manager Mr Woodward, from Leamington Spa, each deny four counts of manslaughter.
All the charges against the defendants allege they unlawfully killed the men.
The indictment further alleges that Mr Simmons and Mr Ashley breached their duty of care to those who were killed by "exposing them to substantial risk to life when no other lives were at risk".
Mr Woodward is alleged to have breached his duty of care to the deceased by failing to end the deployment of colleagues wearing breathing apparatus for the purpose of "offensive" firefighting.
The case was adjourned until Thursday.