Yorkshire's reservoirs boosted by April rainfall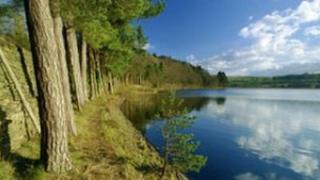 Heavy rainfall in April has boosted water levels in Yorkshire by an extra 12bn litres, a water company has said.
Yorkshire Water said average reservoir levels had increased from 91% in March to 98% by the end of April, and that many were "full to overflowing".
However, underground water levels were still 4% lower than normal, the company said.
According to the Met Office, 121.8mm of rain fell, making it the wettest April in the UK for 100 years.
But Yorkshire Water stressed that it would take many more weeks of sustained rainfall to replenish underground water supplies to a healthy level.
Moving water
Ian Stevens, from Yorkshire Water, said: "It's worth remembering that the last 20 months have been the driest on record, with groundwater supplies really suffering as a consequence.
"Borehole supplies always take much longer than reservoirs to replenish, so whilst we have seen them recover slightly over the last four weeks, there's still a long way to go before these are at anything like healthy levels."
Borehole checks by the company in February showed that water levels in East Yorkshire were 20% lower than usual. It decided to move water from other areas of the county such as Selby and Harrogate to homes and businesses in Hull and Holderness via an underground grid system because of the shortfall.
About 20m litres of water is redistributed each day to the east of the region.
The company said it continued to move water despite the recent rise.