Plaque unveiled in Tipton for Victoria Cross soldier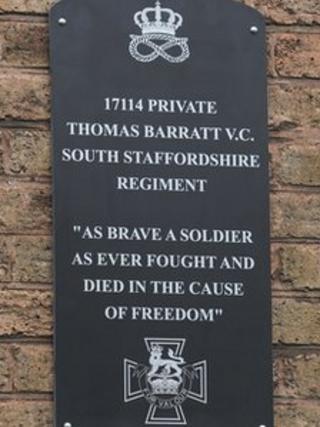 A plaque honouring a World War I soldier who was awarded the Victoria Cross has been unveiled.
Private Thomas Barratt, 22, of the 7th Battalion, the South Staffordshire Regiment, continued shooting at the enemy to allow his patrol to escape.
The battle in Ypres, Belgium, led to his death from shellfire in July 1917.
The plaque has been erected by Sandwell Homes at a block of maisonettes on Batmans Hill Road in Tipton which are named after him.
When Barratt Court was renovated last year, the original memorial sign disappeared, so residents called for a replacement to be installed.
The plaque was unveiled by the mayor of Sandwell, Councillor Joyce Underhill, and Private Barratt's nephew, Ronald Barratt.
Members of the Staffordshire Regimental Association and the local Royal British Legion also attended the re-dedication.
Secretary of the Staffordshire Regimental Association, Trevor Evans, said: "Our regiment has 13 Victoria Cross recipients in our history and Thomas Barratt is a very important part of that history.
"He was only a young lad when he was killed and it is very important that we recognise his sacrifice."