Baby deaths spark mothers' calls for faster parvovirus checks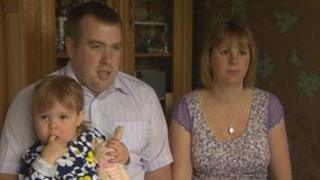 Two women who lost their babies after delays in blood tests for a virus say they want medical staff to react more rapidly to concerns.
Hilary Sturgeon and Stephanie Pennington want a quicker reaction when pregnant women report contact with potential carriers of parvovirus.
The virus is commonly known as "slapped cheek syndrome" because it causes a rash on the cheeks.
It can lead to miscarriages in pregnant women that are infected.
'Movements changed'
Mrs Sturgeon, a teacher from Stoke Gifford in South Gloucestershire, said that when she was 19 weeks pregnant in 2009 there had been cases of slapped cheek syndrome at her school.
She contacted a midwife who told her blood from a previous test would be checked.
"At about 24 weeks I felt the movements had changed," Mrs Sturgeon said.
She said she had gone for an assessment and baby Oscar had been born by emergency caesarean, two months after she had first raised concerns.
Her son had severe brain damage and died four weeks later at Southmead Hospital.
An official report by North Bristol NHS Trust found that a second lot of blood tests, which revealed Mrs Sturgeon had been infected, had been stuck in the public health laboratory because of computer errors.
It recommended that fresh samples of blood should be taken any time symptoms are spotted and that midwives should be made aware of the need to get blood results within six days.
"My obstetrician said if there had been a blood transfusion directly to the baby there would have been an 80% chance of our son surviving," Mrs Sturgeon said.
After the inquest into Oscar's death, the coroner wrote to the Royal College of Obstetricians and Gynaecologists, the Royal College of Midwives, the National Institute for Health and Clinical Excellence and the UK National Screening Council to raise concerns that "there was inadequate guidance about parvovirus available".
The Health Protection Agency has changed its national practice to recommend testing for parvovirus immediately after exposure - its previous policy was to wait for four weeks.
Mrs Sturgeon and her husband Adam, who have since had a daughter named Evelyn, said they could not fault the after-care or the health authorities for the changes made since Oscar had died.
'Full sympathies'
In another case, Stephanie Pennington, from Warminster in Wiltshire, said her son had contracted parvovirus when she was 34 weeks pregnant.
She contacted her midwife, who said she would send a blood sample - taken six months before in September 2010 - for testing.
At 38 weeks, she had not heard anything and went for a check-up where her baby Erynn's heartbeat could not be found, she said. Erynn was later stillborn.
Ms Pennington said a post-mortem examination had confirmed that she as the mother did not have parvovirus when she became pregnant.
She said the midwife should have taken a fresh blood test.
"If she had done her job and done everything she was meant to do, I strongly believe my little girl would be here today," she said.
"I just pray to God that it doesn't happen to anyone else."
Ms Pennington's midwife was suspended and has since resigned.
The Nursing and Midwifery Council is investigating allegations that she failed to take blood tests and fabricated evidence in her medical diary.
In a statement, NHS Wiltshire said: "The circumstances of this incident are the subject of a legal investigation so it would be inappropriate for us to comment further than to say that our full sympathies remain with the family, who were failed by the service."