Devon and Cornwall ambulance helicopters grounded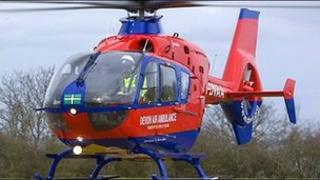 An air ambulance in Cornwall and another in north Devon have been grounded because of safety fears.
The aircraft are among 22 Eurocopter EC135s operated by Bond Air Services in the UK.
The affected aircraft fly from Newquay Airport and Eaglescott Airfield, near Winkleigh in north Devon.
The groundings come after EC135 manufacturers Eurocopter told operators a crack had been found in a helicopter main rotor hub.
Bond said Eurocopter had advised pre- and post-flight checks after the fault was discovered, but Bond added it had now decided to halt flights until further notice on safety grounds.
'Excellent safety record'
"The company's first priority is safety and it has reported its decision to suspend the flights of the EC 135 to Eurocopter and awaits further comment from Eurocopter once they have completed their investigation," a spokesman said.
Eurocopter confirmed that it was the second occurrence of such a fault in the history of the aircraft.
It said in a statement that it was "devoting all of its efforts in order to identify the cause".
It said: "The EC135 has an excellent safety record.
"The world fleet (more than 1000 aircraft) has accumulated more than 2.3m flight hours to date and with more than 270 customers in 58 countries the EC135 is the preferred choice of numerous operators globally.
"Safety is and has always been Eurocopter's top priority."
Cornwall Air Ambulance said alternative cover had been supplied by other services, including the Royal Navy's 771 Squadron Search and Rescue from RNAS Culdrose, which answered two calls on Tuesday afternoon.
An EC135 air ambulance based at Exeter and operated by Devon and Cornwall Police - which provides the pilots and deals with the licensing of the aircraft - is still flying.
Police are also operating the force's own EC135 from Exeter.
They said they had been continuing to allow the Exeter-based aircraft to fly after carrying out daily checks as per the manufacturer's advice and safety was a primary concern.
Helena Holt, chief executive of Devon Air Ambulance Trust, said: "Safety of our crew, patients and the people of Devon is paramount.
"Our operator in Exeter, Devon & Cornwall Police (DCP), after taking advice from both Eurocopter and their engineering team, have taken the decision to stay operational.
"This is not a decision which has been taken lightly."