M4 hard shoulder plans criticised by road safety charity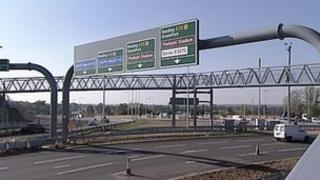 A scheme to open part of the hard shoulder of the M4 in Berkshire has been criticised by a road safety charity.
Under government plans, Highways Agency operators will run the 55-mile stretch of motorway by opening and closing lanes, using variable speed limits and the hard shoulder to ease congestion.
Richard Coteau, from Brake, said: "Allowing vehicles to use the hard shoulder in times of congestion could delay or prevent emergency service vehicles reaching people who have been injured in the event of a crash.
"It's vital the crash victims receive medical treatment as soon as possible after the crash to reduce the chance of death or life-long injuries."
At peak times the hard shoulder between junctions 3 for Hayes & Harlington and junction 12 for Theale in Berkshire would become a fourth lane.
'A bit dubious'
Mr Coteau said: "We urge that schemes are properly assessed before implementation to ensure that no detrimental safety effects will result from hard shoulder running."
Preliminary approval has been given by the government to expand the motorway. Under the £300m scheme, three years of roadworks could begin in 2015.
Road Safety Minister Mike Penning said: "We'll still have areas all along the side of the motorway which are much safer actually than the hard shoulder, so you can get off the motorway itself.
Haulier Steve Bowles from Colnbrook is also sceptical about the plans. He said: "I'm a bit dubious about it.
"Yes it keeps the traffic moving, but if there's suddenly a breakdown on the hard shoulder or something worse it does lead to a safety issue."
The Highways Agency said new lay-bys and refuges will be built along the stretch for broken-down cars to pull into.
'Accidents reduced'
The agency said a three year "managed motorway" pilot scheme on the M42 had showed more reliable journey times and a reduction in the number of accidents.
Mike Wilson, from the Highways Agency, said: "Personal injury accidents have reduced by more than half and there have been no fatalities in the five years that the scheme's been in operation.
"A significant safety benefit is the control of traffic and the back of the queue, if there is a queue, is managed."
Mr Penning added: "What we get from it is a brand new lane on an existing motorway, environmentally the worst thing we want is people sitting in traffic.
"It is holding up growth in that part of the world. What I want to do is relieve those issues and to do that I need to spend an awful lot of money."
"There will be pain while it's being done, don't get me wrong. We need our roads to operate efficiently, this project will do so."