Diamond Jubilee: Businesses cash in on patriotic feel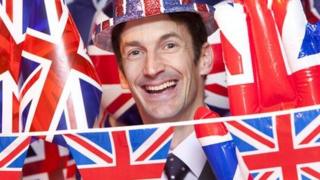 The desire to cover towns, villages and streets red, white and blue in bunting this Diamond Jubilee weekend has been music to the ears of businesses up and down the UK.
The Local Government Association has confirmed it has received almost 9,500 road closure applications across England and Wales to hold Diamond Jubilee street parties.
Peeks, a family-run party supplies business in Dorset, is just one company which has profited from the swell of patriotic pride sweeping the country.
Extra staff have been brought on to the factory floor in Christchurch to work around the clock to meet demand.
'Spike in orders'
Owner Nick Peek admits business has boomed beyond expectations.
He said: "Any time there's anything like a royal wedding, major sports tournament or a big summer event we experience a spike in orders.
"We were particularly busy last year in the run up to Prince William and Kate Middleton's wedding.
"But this year has just been crazy.
"I have had to call in all our casual Christmas decoration packers and anyone else I can get my hands on to deal with the extra work on the factory floor."
In Lincolnshire, fellow suppliers Running Imp have experienced a similar surge in productivity.
Managing director Chris Illsley revealed sales have nearly doubled compared with the Golden Jubilee 10 years ago.
He said: "The British like to party, they like to celebrate.
"I think last year's royal wedding with William and Kate was the catalyst for that.
"We did extremely well in the Golden Jubilee in 2002 but sales are 40% up on what we experienced back then."
The feel-good factor looks set to carry on through the rest of the summer with football's European Championship and the London Olympics also on the horizon.
Pubs are among party suppliers' biggest customers, including Enterprise Inns, which manages more than 6,000 across the UK.
'Community celebrations'
Commercial director Ed Cottrell believes the Diamond Jubilee could act as a springboard for a summer of celebration.
He said: "One could argue that the recent weather has caused as much excitement as upcoming events.
"A lot of people, publicans included, have had a really tough few years and this summer is a real chance to rediscover community celebrations.
"Pubs are a great place to do that, whether it's a Diamond Jubilee street party, watching an England football match or cheering on the Olympic torch relay as it passes through your town.
"We're definitely anticipating a bumper few months ahead. Our pubs have been ordering more beer and food than normal and there's a great spirit among the trade."