East Midlands Trains: Strikes to continue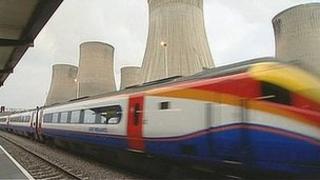 Industrial action is set to continue as talks to resolve a dispute involving East Midlands Trains (EMT) drivers have ended without agreement.
Drivers' union Aslef is opposed to plans by the company to reduce pension fund contributions from both workers and the firm from July.
Bosses insist pension payouts will not be affected but the union claims the calculations are flawed.
Further strikes are planned for 15 and 17 May.
Clare McCartney, HR Director for East Midlands Trains, said: "We are frustrated that our constructive attempts to provide a resolution on this issue have not been taken up by Aslef."
No alternative
She said the union had not offered any alternatives for resolving the dispute.
Aslef's General Secretary Mick Whelan said he was disappointed over the lack of "flexibility" shown by the rail company and its lack of any "serious intent to end the dispute".
He said the union would produce a full report for its executive committee, which would "determine how to act most effectively to protect the pensions of union members working for EMT".
"In the interim, our door remains open and we are willing to meet the company at any time," he said.
Passengers are being advised to check the East Midlands Trains website for information on services.