School funding dispute splits town and country areas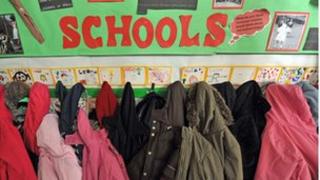 Are city kids worth more than their country cousins?
Of course not, you reply.
Why, then should a child attending a state school in Birmingham have over £1,000 more taxpayers' money spent on their education each year than their counterpart just a few miles down the M5 in Worcestershire?
According to the Department for Education, during 2011-12 the Government's Dedicated Schools Grant to Worcestershire worked out at an average of £4,600.77 per pupil. In Birmingham, the figure was £5,688.80.
Neil Morris, the head at Christopher Whitehead Language College in Worcester says: "Much of what's going on in education is bonkers and school funding epitomises that. It's just not a level playing field."
Mr Morris's school includes within its catchment area one of the most disadvantaged areas in the Midlands: one in six of his pupils qualifies for free school meals.
Government figures show Worcestershire is languishing fifth from the bottom of the education funding league table.
Complex challenges
Campaigners in the f40 group of lowest-funded councils, battling to narrow the gap between the likes of Worcestershire and Birmingham, complain that it has trebled since 1988.
The rationale behind the complex school funding formula itself is that a major, culturally-diverse city like Birmingham will always need extra help with its wide variety of complex challenges; among them, higher than average numbers of children who do not have English as their first language and large concentrations of deprived communities.
But Mr Morris's experience shows how some schools seem to have the worst of all worlds: dealing with many of the self-same symptoms of urban deprivation but covered by a local authority whose general socioeconomic indices score less heavily under the funding formula than the big city up the road.
The Education Secretary Michael Gove is resisting calls for a complete overhaul of school funding. "Not before the next election," he says.
To get the measure of both sides of the story, BBC Hereford and Worcester's political reporter Tom Turrell will be reporting from Christopher Whitehead Language College in Worcester and from the Perry Beeches Academy in Birmingham during this week's Sunday Politics programme.
And I will be joined by two politicians with their own distinct experiences of the issue: the Conservative MP for West Worcestershire, Harriett Baldwin, and the Labour leader of Sandwell Council, Darren Cooper. He famously had a major run-in with Mr Gove when the Government scrapped Labour's 'Building Schools for the Future' programme which had been due to repair or replace crumbling school buildings in some of the most deprived areas anywhere in Britain.
And I hope you will be able to join us too. That's Sunday Politics, from 12:00 BST on BBC One on Sunday, 20 May.
And of course you can follow me on Twitter: @PatrickBurnsBBC