Robin Garbutt murder conviction appeal decision reserved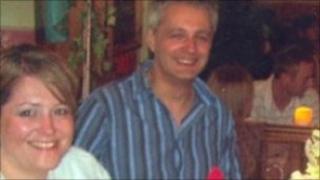 Judges have reserved their decision over whether a man found guilty of murdering his postmistress wife can appeal against his conviction.
Robin Garbutt, 46, was jailed for life in April last year and ordered to serve a minimum of 20 years in prison.
The jury at his trial heard he beat his 40-year-old wife Diana to death in their home above the village store in Melsonby, North Yorkshire.
Three Court of Appeal judges will give their decision at a date to be fixed.
Garbutt was present in the dock at the Court of Appeal in London for the proceedings.
During his trial, he claimed a raider with a gun told him "don't do anything stupid, we've got your wife" before robbing him as he worked, and that moments later he discovered his wife's body in bed in their living quarters.
It was argued on his behalf that his conviction should now be regarded as unsafe in the light of newly-disclosed material which it was said supported the credibility of his evidence.
Opposing the appeal move, the prosecution told Lord Justice Hughes, Mr Justice Hedley and Mr Justice Maddison, that there was "strong and cogent" evidence "demonstrating that there was no intruder" and that the fresh material did not impact on the safety of the conviction.
Garbutt's sister, Sallie Wood, of North Yorkshire, has said her family hopes the appeal will result in the overturning of "this terrible miscarriage of justice".