Sludge barge from Cambridgeshire to Norfolk 'challenging'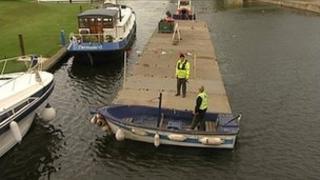 Trialling the use of barges to move sewage sludge from Cambridgeshire to a Norfolk treatment plant has not been straightforward, Anglian Water said.
It hoped the barges would reduce "lorry movements" from 60 to 10 per day.
A decision about the transport method was expected by the end of last year, however, trials are continuing.
A spokesman said the company remained committed to using the river but tides, bridge heights and limited daylight had proved an "interesting challenge".
The scheme involves transporting a by-product of the waste water treatment process - sludge - on the River Ouse between Ely and Anglian Water's plant at King's Lynn.
'Explore options'
Ciaran Nelson, from Anglian Water, said the company was exploring alternative options to the "challenging tidal section" of the river.
"The non-tidal flood relief channel that runs more or less parallel with the tidal section between Denver and King's Lynn may provide an alternative route," he said.
"More work is needed to explore this option. For instance, as there is no lock at the King's Lynn end, we would need to explore the possibility of converting the existing sluice to allow for lock facilities."
He added: "We're committed to exploring all options fully but we have to be conscious of the cost of setting up any scheme like this, the cost of maintaining and running the scheme and any potential impact on the environment.
"This means the decision to use the river or not is not an easy or straightforward one for us to make however appealing it may be as a solution."