Peninsula college dental students visit India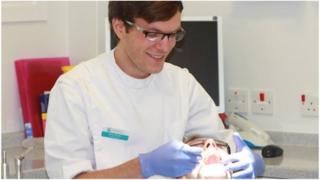 Students from a dental school in south-west England are to travel to India to provide treatment and give advice in "health care deprived" areas.
Six students from the Peninsula College of Medicine and Dentistry in Plymouth will work alongside dentists in the city of Palampur in north-west India.
Student Miles Hindes said they hoped they could provide care for people who might not otherwise receive it.
The students will travel to India for two weeks in July.
'Tooth-pullers'
Mr Hindes said: "It is estimated that about 80% of the Indian population reside in rural areas and have no access to dental care.
"Some of the population visit roadside, unqualified people known as 'tooth-pullers' who have no ability to sterilize equipment and no local anaesthetic."
Mr Hindes said that chewing betel quid was a popular habit, which resulted in oral problems.
In India the incidences of oral cancer were also high, he added.
"During the elective we will gain an invaluable insight into the challenges faced in areas deprived of basic health care and understand how dentistry has evolved to cater for these needs," he said.
The final year students, who are aged between 24 and 26-years-old, have to fund the project themselves which they estimate could cost up to £1,690 per person.
Mr Hindes said: "We will have a very hands-on role, carrying out dental procedures within both clinical and hospital settings.
"It will allow us to develop our skills and it'll be very different to what we're used to in the dental school in the UK."