Metal theft halved in West Midlands, say police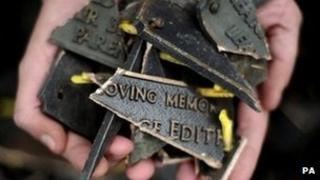 Metal theft across the West Midlands has halved since the start of the year, according to police.
Between 1 January and 30 March there were a total of 1,062 metal thefts recorded across the West Midlands, compared to a total of 2,222 offences over the same period last year.
The decrease was due to targeting thieves and rogue scrap dealers, a police spokesman said.
A national report on Monday said thefts had doubled in the past five years.
The Association of British Insurers (ABI) said insurers were paying out more than £1m a week to victims of metal theft.
'Almost impossible'
West Midlands Police said tighter controls for scrap metal traders had also contributed to the reduction in the area.
A new team will be launched in June to tackle the problem across the whole of the region, including West Midlands, West Mercia, Staffordshire and Warwickshire force areas.
Supt Angie Whitaker, from West Midlands Police, said: "We know that good work is being done to tackle metal theft, and now one team will drive that work across the central region, in conjunction with partner agencies, local authorities and major industry."
Sandwell was the area most affected by metal theft in the West Midlands in early 2011, and has seen recorded offences fall by 55.4% since spring last year, the force said.
Birmingham South and Walsall have shown the largest reduction, with 66% fewer offences since January 2012 compared with the same period of 2011.