Tiverton schools vote for co-operative status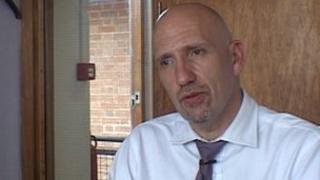 Change is sweeping the South West with a rapid rise in the number of schools wanting to become Co-operative Trusts.
On Tuesday, 12 schools in Devon voted in favour of switching status to become one co-operative school.
The schools in the Tiverton area would continue to have links with the local authority, but pupils, staff and parents could become Trust members giving their say on how the schools should be run.
Andrew Lovett, head teacher of Tiverton High School, said: "This is a Tiverton school for Tiverton kids and we ought to be owned and run by the Tiverton community.
"The young people in this area deserve the best and they deserve to succeed and have the very best quality we can provide for them."
Less controversial
He added: "We can do that by working together as members of a Trust.
"And when the people of this town own their school they will commit to it and support it in a much stronger way than would otherwise be the case."
The Co-operative College, which promotes the model nationally, said about 35 schools were already Co-operative Trusts in the South West, with about 150 hoping to become them next year.
Co-operative trusts are not considered as controversial as academies or free schools, which become independent of local authorities.
But there is some concern that with so much change teachers will be distracted from their core role.
Neil Burden, portfolio holder for children's services in Cornwall said: "Teachers are there to teach. That's what they were trained to do, that was their vocation.
"I think that's what we must try and get back so our teachers teach…and not be in meeting after meeting worried about what the structure is and how the school is being run."
The schools in the Tiverton area will now publish a statutory notice and if approved will become a Co-operative Trust in August.