Devon MP Cox calls for new yacht delivery regulations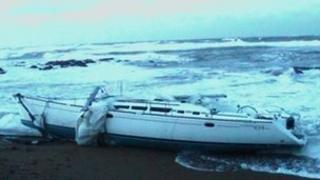 A Devon MP has called for an urgent review into the regulation of the yacht delivery industry.
In Parliament, Conservative Geoffrey Cox said foreign-registered boats not in British waters were not subject to British enforcement, even if British firms were delivering them.
Mr Cox citied the cases of five sailors who died while working for a Hampshire firm later accused of negligence.
Transport Minister Mike Penning said he would work with Mr Cox on the issue.
'Basic standards'
In an adjournment debate, Torridge and West Devon MP Mr Cox talked about Reliance Yacht Management, which delivers yachts across the world for private and commercial clients.
In January, an investigation by BBC Inside Out South and South West said Nick Irving, boss of the Farnborough-based company, pressured skippers to sail into bad weather against their better judgment, with the loss of three boats.
In December 2003, Skipper Alasdair Crawford died after the 49ft (15m) yacht he was on rolled in a Force 10 storm in the Bay of Biscay.
John Anstess, from Plymouth, Devon, and his crew, Dave Rodman and Richard Beckman, died in December 2006 when the 44ft (13.4m) catamaran Catshot was wrecked in a storm off the north west coast of America.
Two months later, skipper Steve Hobley, from Newton Abbot, Devon, died from hypothermia after a 38ft (11.5m) catamaran was overwhelmed by 45ft (13.8m) waves and capsized while in the Atlantic sailing towards Florida.
Using the death of Mr Anstess as an example, Mr Cox said it was an "outrage" that the Maritime and Coastguard Agency and the Health and Safety Executive were unable to act because the Catshot was foreign-registered.
He said: "I do not accept that this matter is beyond the criminal jurisdiction of the courts of this country merely because the vessel flew a foreign flag".
He added: "It is time that the government seized this nettle.
"We must have an urgent review to see whether it is possible to regulate the yacht delivery industry, at least by imposing basic standards of integrity and conduct upon it."
Transport Minister Mike Penning said "if we can find a way to prosecute this issue through my department, my agencies, my secretary of state, or through any other government department, we will do so.
"My fear is that we will not find a way, but we will try, and, if we can act, we will."
He added that he was "aware that there is a keenness within the international community to address the terrible situation of serious crimes at sea".
In response to the Inside Out investigation, Mr Irving denied putting pressure on skippers and said they were given 24-hour support.
The company has been unavailable for comment about the parliamentary debate.