Devon and Somerset Fire Authority's Mark Healey reappointed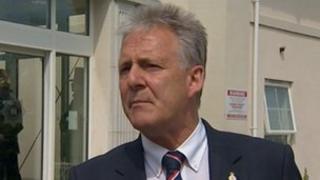 The reappointment of the chairman of Devon and Somerset Fire Authority, who increased members' allowances by 25%, has been criticised by a union.
Mark Healey's reappointment was unopposed at a meeting at the service's headquarters near Exeter.
The Fire Brigades' Union (FBU) said it was "surprised" at the move. Mr Healey said he was supported by employees.
The fire authority approved the allowances increase in February after Mr Healey cast the deciding vote.
When he approved the rise, Mr Healey said he had a duty of care to authority members, as well as firefighters.
Mr Healey, a Conservative councillor on Somerset County Council, fully served his previous term, despite criticism about the allowance rises from the union and Devon and Somerset county councils.
'Nationally acclaimed'
Speaking of his reappointment, Mr Healey said his "track record speaks for itself" after 25 authority members agreed that he should remain in charge.
He said his work saw "a rural fire service becoming nationally acclaimed".
He added: "I think I have the support of 2,300 employees."
Bob Walker, of the FBU, criticised the move, saying: "I think everybody's surprised when everyone's being asked to take freezes and we have councillors who are voting for higher allowances."
The authority is an independent body of 23 councillors which collects the service's funding from local council taxes.
It also ensures the fire service is performing efficiently and in the best interests of the public.
Authority members are entitled to allowances to cover their expenses for attending meetings and other fire service business they are involved in.