Warrington IRA bomb memorial theft attempt man jailed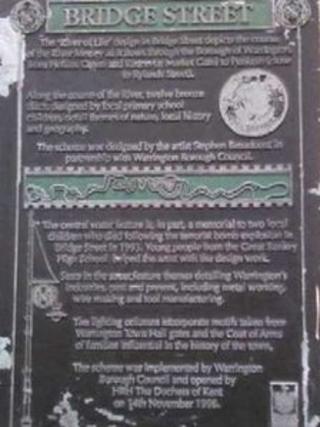 A man who tried to steal part of a memorial to victims of an IRA bombing in Warrington has been jailed.
Spartakas Grachauskas, 25, who got an 18-week term at Manchester City Magistrates' Court, attempted to take part of the River of Life memorial.
Tim Parry, 12, and Johnathan Ball, three, died when two bombs detonated in the town centre, on 20 March 1993, leaving 54 people injured.
Grachauskas was detained by police on 21 April after being caught on CCTV.
His sentencing comes after it emerged earlier this month that a thief - who has not been caught - managed to steal another plaque from the memorial, which bore the names of the two children who died.
Ch Supt Richard Strachan, from Cheshire Police, said: "This is an important memorial for the community in Warrington and is part of the town's heritage.
"We hope that this case will serve as a warning to others that those involved in this type of crime will be punished for their actions."
Tim Parry was killed when two bombs exploded within a minute, in an area crowded with shoppers.
Johnathan died at the scene, while Tim died in hospital, when his life support machine was switched off on 25 March.
The day after the bombings, the IRA admitted it had planted the devices.
The memorial to the victims, designed to be a symbol of "continuing life", was unveiled by the Duchess of Kent.