Red Cross charity women on survival weekend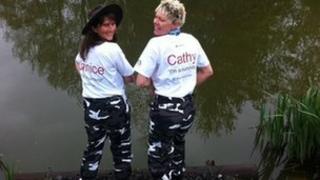 Two Red Cross workers are spending the Diamond Jubilee weekend stranded on an island with only basic provisions.
Janice Hawker, 50, and Cathy Taylor, 46, rowed across a lake at Priory Farm in Redhill, Surrey, to start their four-day test of survival.
They are living on rice, beans and water but can complete challenges such as swimming to the "mainland" for items like tea bags or chocolate.
"Cathy is worried about bugs but I am worried about hunger," said Ms Hawker.
"I do like my food."
Ms Hawker, from Horsham, West Sussex is manager of the British Red Cross shop in East Grinstead, while Ms Taylor, from Reigate, manages the Dorking branch.
They chose the Diamond Jubilee weekend for the survival challenge because the Queen is patron of the charity.
Basic needs
"We just wanted to try and do something completely different for the Diamond Jubilee," said Ms Taylor.
As well as raising funds for the Red Cross, the two friends are aiming to raise awareness of the basic needs of people across the world in crisis following disasters.
Other Red Cross workers will be at the farm all weekend giving first aid demonstrations and taking part in other displays.
The pair have built their own shelter using materials on the island and dug themselves a compost toilet.
They will have to keep a fire going all weekend to be able to cook and heat water.
"Hopefully the sun will shine and people will come and support us," said Ms Hawker.
"It will be tough but it is a challenge we are up for."