Graeme Pullen on 'largest' porbeagle shark caught off Cornwall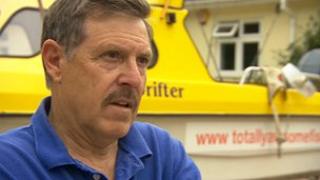 The sea angler who hooked what could be be the largest shark ever caught in British waters has described the catch as the "pinnacle" of 40 years' fishing.
Graeme Pullen and Wayne Comben, from Hampshire, caught the porbeagle, a member of the great white family, off the coast at Boscastle, Cornwall.
They estimated the female shark to be 10ft (3m) long and weighing 550lb (250kg).
Mr Pullen legally tagged it and returned it to the water.
The existing British shark record stands at 507lb but for any fish to be officially recognised as the biggest, rules stipulate it to be killed and weighed on shore.
Mr Pullen, a retired businessman who lives in the Hampshire village of Hook, said: "The experience was 'top of the tree' - not just because it was the biggest caught on film, but because it's been tagged and released alive."
'Such aggression'
"Any man would want to be on the end of that fishing line - it was a privilege. All fishermen tell porkie pies, well here you go guys, I can't get my hands that far apart."
Mr Pullen who has seen sharks in the wild in foreign waters, said images from the film Jaws had come into his mind when he first saw the fish.
"I've never seen such aggression as when it came up behind the boat ripping up the water. It was a monster fish.
"The seagulls lifted off the water.
"The bulk of it was enormous - you have got to have respect for this creature."
It took the two men about 90 minutes to reel in the fish as it dragged their 17ft boat for more than a mile.
He said it had been "action stations" while the pair carefully reeled in the shark, taking care to keep the line away from the boat's propellers.
Trying to bring such a large shark on board would have risked tipping the boat over. Instead Mr Pullen got close enough to attach a tag to the shark which will be used to gather data on population levels of the species for the National Marine Fisheries Service in US.
Although a member of the great white family of sharks, the porbeagle is not thought to be a threat to humans.
Mr Pullen speculated that commercial over-fishing of mackerel on which blue sharks and porbeagle depend was causing them to move closer to the shore to look for food.
He has no regrets about not claiming the official record.
He said: "You cannot just bring it in to claim a record - for what? Ego? You can't bank ego."