Volunteers in South East honoured by the Queen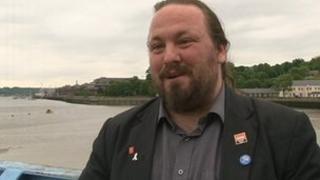 Volunteers in hospital radio, children's hospices, art galleries and theatres are among hundreds whose work has been recognised by the Queen.
A total of 26 groups in south-east England have received the Queen's Award for Voluntary Service on the eve of the Diamond Jubilee celebrations.
The award, now in its 10th year, was created for the 2002 Golden Jubilee.
Representatives of the winners have been invited to royal garden parties and to meet the Queen on her UK tour.
Chatham Dockyard Historical Society in Kent, which has catalogued and digitised centuries of historical records relating to the Royal Dockyard in the town, is among the recipients.
"The Queen's Jubilee is important for a lot of people and to take this time to recognise volunteers who give up their time to ensure that our history and heritage remains at the forefront here in Medway is great," said spokesman Vince Maple.
Melanie Clark, from Southampton Hospital Radio said the Queen's Award was a "very large pat on the back for all the volunteers".
"Every one of our members is a star without whom thousands of patients over the years would not have been cheered up or helped through their difficult times," she said.
The other recipients, which are among 112 UK organisations honoured are:
Berkshire and Buckinghamshire
Les Webber Angling Projects, near Heathrow, organiser of angling courses for schools.
Child Contact Centres in Maidenhead and Slough, provider of a safe environment for families to meet.
Aylesbury Vale Rural Community Care Service, for day care services for the elderly.
Slough Refugee Support.
Slough Homeless Our Concern, providers of support for the socially excluded.
Rivertime Boat Trust at Maidenhead, provider of river activities for disabled people.
Daisy's Dream, for bereaved children and families.
Wokingham Volunteer Centre, volunteering and community service promoter.
Kent, Surrey and Sussex
The Lightbox volunteers, who support the art gallery and museum staff in Woking.
Watts Gallery volunteers who help conserve the historical arts centre in Compton, near Guildford.
Ashford and St Peter's Hospice volunteers.
St Wilfrid's Hospice, Chichester, volunteers.
Kangaroos, Haywards Heath, for social activities for people with learning activities.
Demelza Hospice, which cares for children at its centres in Kent, south-east London and East Sussex.
Citizen's Rights for Older People, in Canterbury and Lenham, which provides an advocacy service for the elderly.
Oxfordshire, Hampshire and Isle of Wight
Unity 101 Community Radio in Southampton, multi-language broadcaster.
New Forest and District Sailability, provider of sailing for disabled people.
Friends of Shanklin Theatre, Isle of Wight.
Isle of Wight Railway Company.
Sholing Valley Study Centre Association for education and conservation.
Maddhat Samuha, which supports Nepalese immigrants in Farnborough.
Falcon Rowing and Canoeing Club, Oxford.
Carterton Lions Club, Oxfordshire.
Chiltern Centre for Disabled Children, Henley.