Devon and Cornwall Police keeping DNA 'until new advice received'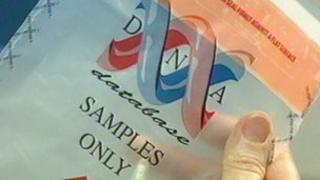 DNA records of innocent people and those not charged will be kept by Devon and Cornwall Police until officers are told how to handle new information laws, the force has said.
Civil liberties group Big Brother Watch said the force recorded more than 10,000 profiles between 2009 and 2011.
The Home Office is to start destroying some profiles from this month after admitting some were held for too long.
Devon and Cornwall Police said they would act after more official guidance.
'Legacy samples'
After an arrest, police are allowed, but not legally required, to take DNA from mouth swabs, hair or blood samples regardless of whether that person is charged.
They were allowed to keep DNA and fingerprints, even if a case was dropped, but that is to change as the Protection of Freedoms Act is implemented.
In the future, DNA profiles of people not charged with an offence will no longer be retained.
Those charged with a serious sexual or violent offence will be retained for three years.
In special cases, this can be extended by two years with the approval of a magistrates' court.
Devon and Cornwall Police said the use of DNA evidence was a robust and vital technique used to help convict thousands of violent and dangerous criminals and also to exonerate many innocent people.
The force said it would continue to take samples in accordance with the law.
But it added it was awaiting further instructions from the Home Office to implement the "various stages of the destruction provision".
It said it would begin destroying "legacy samples" in "the near future" and "as swiftly as possible".