Police 'confident' of finding sex offender John Radley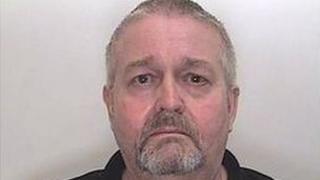 Police have said they are "fairly confident" they will find a convicted child sex offender who failed to attend the last day of his trial a month ago.
John Radley, 56, from Finsbury Park, London, was convicted in his absence by a jury at Swindon Crown Court.
He was found guilty of 16 sex offences against children which took place in Chippenham, Calne and London, and a warrant was issued for his arrest.
Despite an appeal on BBC1's Crimewatch last week, he has still not been found.
Police said they had searched his London address immediately following his disappearance and have continued to liaise with the Metropolitan Police.
His details have been circulated on the Police National Computer and an alert sent to the ports authority.
Crimewatch leads
Det Insp Mike Selbie, from Wiltshire Police, said he does not believe Radley poses an immediate risk to the public.
"The fact that he's not being managed and monitored by Wiltshire Police currently does increase his risk - we don't know who he's actually in contact with currently," he said.
"But the offences he committed were against people he knew, that he had an association with, they weren't against strangers. So I think that gives some reassurance.
"And Crimewatch has provided some leads and some lines of inquiry which we're following up - so I am fairly confident we'll find him."
Radley was convicted of 10 counts of sexual activity with a boy, four counts of sexual assault on a girl, attempted rape and committing gross indecency with a child.